AGM – Liss RBL Club – Monday 12th October – 19:00 POSTPONED
With the ongoing COVID-19 rules and regulations forever changing on what seems, a weekly basis, the Liss RBLC Committee have made the regrettable decision that it's not going to be possible physically holding the AGM on Monday 12th October as planned. We'd looked into substituting with video conferencing as a solution, however we felt this could be problematic hence, our decision with the AGM's postponement.
As a result, we are proposing the following:
The AGM be moved to the end of January 2021 (assuming the Government's relaxation on the rules of gatherings). Date will be announced soon;
The current Liss RBLC committee will stay in place, until the AGM;
Members, who put themselves forward for committee positions, attend all forthcoming Liss RBLC monthly meetings;
We sincerely apologise for any inconvenience the postponement may cause, however we are sadly in extremely unprecedented times.
---
ELECTIONS UPDATE
With regards to Elections, members who have put themselves forward are as follows:
Chairman's Role – Lee Taylor | Mike Jauncey
Vice President – Cliff Salmons
Chairman's Assistant – Charlene Taylor
Treasurer's Role – Ian St.John
The club still requires the following roles filled:
IT Infrastructure
Secretary
Committee Member
Committee Member
Please do let us know if you are interested in joining the club committee in whatever capacity that may be (you can use the form links below or add your name to the list on the notice board in the club).
The role and responsibilities of the committee and staff are detailed below (just click on the image to view the document) or can be collected from the noticeboard in the club: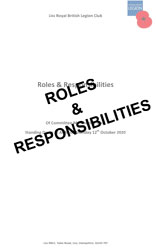 Please download the 'Committee Proposal Form' below (just click on the image to view the document) and follow the instructions on the form. Alternatively the form can be collected from the noticeboard in the club.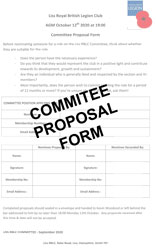 If you have any questions or queries, please do not hesitate to contact us.

We will endeavor to keep the website updated with the names of members who have put themselves forwards for the roles so please check it on a regular basis.

We thank you for your continued ongoing support.
Liss RBLC Committee